Renew, refresh, rejuvenate
At Roots in Harmony, we specialize in all-natural Ayurvedic teas, superfood mixes and latte blends, using certified organic herbs and hand-roasted spices. We craft each blend locally in Houston, TX, using whole ingredients and never add sweeteners, flavors or anything artificial to our blends. We believe in allowing nature to restore our balance and bring our roots back into harmony.
Specialty Tea & Superfood Blends
What is Ayurveda?
Ayurveda is one of the oldest healing sciences. In Sanskrit, Ayurveda means "the science of life". This tradition places great emphasis on prevention and believes that health can be maintained by bringing balance to one's life through a proper diet, lifestyle and through the use of nutrient-rich herbs and spices. Knowledge of Ayurveda enables one to understand how to create this balance of body, mind and consciousness and how to make lifestyle changes to create and maintain this balance.
- From The Ayurvedic Institute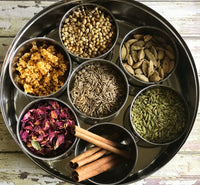 Let customers speak for us